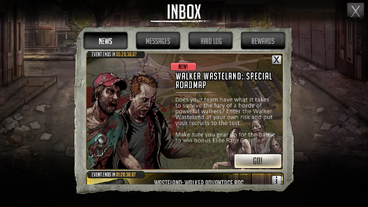 Event appeared on 28th March. Do you have what it takes to survive the fury of a horde of powerful walkers? In this roadmap event get together your best team of recruits and fight for Elite Rare Gear.
Recommended Grade: S1
Ad blocker interference detected!
Wikia is a free-to-use site that makes money from advertising. We have a modified experience for viewers using ad blockers

Wikia is not accessible if you've made further modifications. Remove the custom ad blocker rule(s) and the page will load as expected.