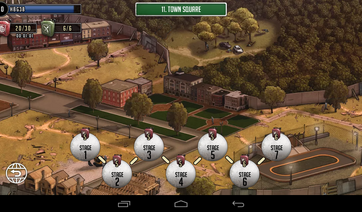 Town Square - The edges of Madness - Edit
| Stage | Energy Required | Waves | Obstacles | Enemy Type | Ally |
| --- | --- | --- | --- | --- | --- |
| 1 | 5 | 6 | None | Alert all but fast boss | Darius |
| 2a* | 5 | 6 | None | Walkers | Random |
| 2b* | 5 | 6 | None | Strong / Alert People (50/50) | Darius |
| 3 | 5 | 6 | None | Strong / Fast / Alert People (45/20/35) | Darius |
| 4 | 5 | 6 | Dividers | Walkers | Random |
| 5 | 5 | 6 | Chokepoints | Walkers | Random |
| 6 | 6 | 6 | None | People | Darius |
| 7 | 6 | 6 | None | People | Random |
*Note: Enemy Composition changes based on your decision to use the horde to attack or not. For example, Stage 2 will be walkers if you use the hoard, but people if you 'fight by conventional means'.
Rewards for Area Completion:
Coins - 75
Profile XP - 2,300
Food - 11,100
Wood - 11,100
First Aid Case - 2
Choices:
Use the Swarm as a weapon - Reward = Bloody Shirt.