Shop
This is where you can use your own money, to purchase coins, resources, Ceasefire, certain Battle Items, or featured items (such as the Raid Energy Bag, Rebel Gear Bag, Survivors Crate) etc.
See also the 30 days pass and the Supply Depot.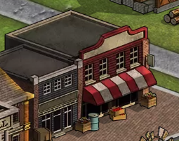 | Color | Currency |
| --- | --- |
| Green | United States Dollars |
| Yellow | Coins |
Ad blocker interference detected!
Wikia is a free-to-use site that makes money from advertising. We have a modified experience for viewers using ad blockers

Wikia is not accessible if you've made further modifications. Remove the custom ad blocker rule(s) and the page will load as expected.