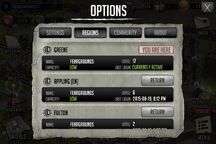 You can start a new game in another region and your old game will be saved.
You can have an active game in any region and can switch back and forth at will.
The only thing shared between regions is your coins which will be accessible by any account you have.
Some regions may be hidden, as a result of high capacity, or they maybe for testing purposes.
These Include:
Atkinson [EN-AU] ( may have been closed off? )
Crawford [EN-AU]?
Sumter [EN-AU]?
Calhoun [EN]
Echols [EN]
Floyd [EN]
Dade [EN]
Bleckley [EN]
Bibb [EN]
Brantlet [EN]
Berrien [EN]
Barrow [EN]
Banks [EN]
Bartoe [EN]
Bacon [EN]
Bryan [EN]
Appling [EN]
Madison [EN]
Macon [EN]
Marion [EN]
Liberty [EN]
McIntosh [EN]
Miller [EN]
Pierce [EN]
Jasper [EN]
Hall [EN]
Bleckley [EN]
Gilmer [EN]
Brantley [EN]
Burke [EN]
Berrien [EN]
Franklin [EN]
Forsyth [EN]
Cook [EN]
Dougherty [EN]
Carroll [EN]
Coweta [EN]
Harris [EN]
Irwin [EN]
Banks [EN]
Hart [EN]
Bibb [EN]
Candler [EN]
Long [EN]
Decatur [EN]
Bartow [EN]
Jefferson [EN]
Houston [EN]
Brooks [EN]
Bacon [EN]
Cobb [EN]
Henry [EN]
Mitchell [EN]
Cherokee [DE]
Chatham [DE]
Charlton [DE]
Laurens [ES]
Gwinett [ES]
Grady [ES]
Glynn [ES]
Gordon [ES]
Clay [FR]
Clinch [FR]
Camden [FR]
Catoosa [FR]
Coffee [IT]
Clayton [IT]
Columbia [JA]
Douglas [KO]
Dodge [KO]
Lumpkin [PT]
Fannin [PT]
Emanuel [PT]
Early [PT]
Evans [PT]
Jones [RU]
Fayette [RU]
Dooly [RU]
Hancock [TR]
Elbert [EN]
Dawson
Fulton
Greene
Randolph [EN]
Colquitt [TR]
Towns [TR]
Polk [RU]
Newton [RU]
Meriwether [RU]
Lithonia [RU]
Wayne [PT]
Twiggs [PT]
Roswell [PT]
Toombs [PT]
Crisp [KO]
Treutlen [KO]
Union [FR]
Johnson [FR]
Telfair [FR]
Jackson [ES]
Stewart [ES]
Tift [ES]
Murray [ES]
Turner [ES]
Thomas [ES]
Pooler [ES]
Clarke [DE]
Lee [DE]
Seminole [EN]
Stephen [EN]
Terrell [EN]
Lincoln [EN]
Lamar [EN]
Wilkes [EN]
Walker [EN]