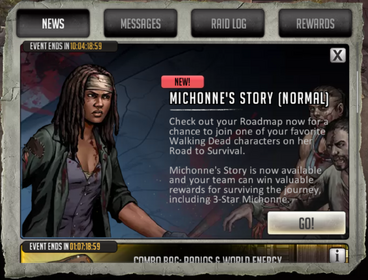 Event appeared on the 21st March. This is a variation of one which previously appeared, however that one rewarded the player Michonne "The Best Defense" upon completion.
Help Michonne survive the dangers on the road to survival. Survive all stages & win rare 3-star Michonne.
Ad blocker interference detected!
Wikia is a free-to-use site that makes money from advertising. We have a modified experience for viewers using ad blockers

Wikia is not accessible if you've made further modifications. Remove the custom ad blocker rule(s) and the page will load as expected.