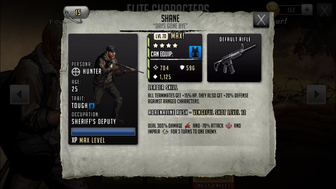 Some
characters
have a Leader Skill. This Provides better enhancements (such as Better Attack, Defense, etc) for the rest of the Team Mates, when they are the Leader.
A hired Faction member or a Story Mission ally's leader skill will stack with your own team's leader skill.
The bonuses remain in effect even if the character that grants them is killed.
http://forum.scopely.com/showthread.php?5596-Team-Leader-and-Ally-Leader-Skills-Stacking-Question
The leader skills are added one after another (and NOT together at once)

For example, Shane - Days Gone Bye's Leader Skill is "All teammates get +15% HP. They also get +20% defense against ranged characters". When using Shane as your Leader AND as an Ally, the Leader Skill does NOT become "All teammates get +30% HP. They also get +40% defense against ranged characters". The Leader Skills are applied one after the other.
Proof (Best proved with +?% HP Leader Skills):
Ad blocker interference detected!
Wikia is a free-to-use site that makes money from advertising. We have a modified experience for viewers using ad blockers

Wikia is not accessible if you've made further modifications. Remove the custom ad blocker rule(s) and the page will load as expected.