Extra Gear such as Wool Beanies, Flak Jackets, Alpenstock,
Weathered Journals, Waist Tool Packs, Topographic Maps & more may also be found.
This Mission is available on The Roadmap, & was open for a limited amount of time.
Recommended Team A++
Final Rewards : Wool Beanie x 1, Flak Jacket x 1
Advice:- you will need to use a World Energy Refill, as it is a minimum 15 World Energy. World Energy has also started appearing on some of the Rewards.
Note: You can redo any stage to get a chance to drop the associated item loot in the table below. For your best chances use a leader with Item Drop Rates bonus and an ally from your faction with a Item Drop Rates bonus. When you redo a stage the chance to get an item is NOT 100%. Redoing the stages also have a slight chance for Wool Beanie or Flak Jacket drop.

This event appear on average once a month. See Past Events for dates.
↑ Wide variation of walkers, in each Wave. Obstacles present. Use the usual Battle Items for dealing with Walkers
↑

Enemy Survivors are a combination of Ranged Tough/Alert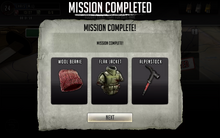 Ad blocker interference detected!
Wikia is a free-to-use site that makes money from advertising. We have a modified experience for viewers using ad blockers

Wikia is not accessible if you've made further modifications. Remove the custom ad blocker rule(s) and the page will load as expected.