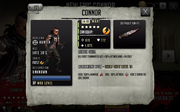 How to create/edit a Character using the character template ?
Please note this requires some Basic Coding.
How to create a character Page.
Edit
Edite Uma Seção apropriada soluçar hum traço caracteres. ISSO Feito Clicando e à Esquerda da mesa, e Selecionando Adicionar Linha.
It will ask wether to select Above or Below.
Add the basic text as per other characters, & try & follow a similar format.
Then highlight the characters name, and click the Chain link Icon from the Menu above.
Then select Open & a New Window will Open.
Then Select Add to this Page
You are now ready to Edit, as per the next section
How to Edit a Character Page, that does not have a template
Edit
Click on the White Pointer to the Right of the Edit Icon, and Select Classic Editor.
At the top, there are 2 tabs. 1 is source & the other is Visual. Select Source
Open another new tab, & select Character Template from this link
Select the Source Tab.
Copy all text using the Mouse, and select Copy. Go back to the characters page, & select Paste.
Text should have copied across. You can now edit the appropiate text at the top, & replace it with the characters details in the template. Once finished editing this Infobox, you can switch to Visual Mode, & edit the rest of Information such as Leader Skill, Adrenalin Rush, Stats etc
On the Right Hand Side are Categories, Please add Characters, as well the Trait & Persona. Then select the Blue Publish button on the right hand side.
Ad blocker interference detected!
Wikia is a free-to-use site that makes money from advertising. We have a modified experience for viewers using ad blockers

Wikia is not accessible if you've made further modifications. Remove the custom ad blocker rule(s) and the page will load as expected.