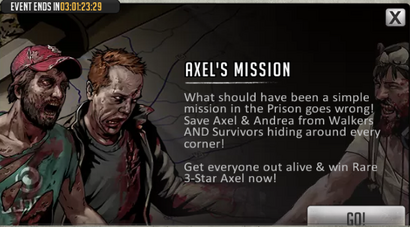 "Save Axel & Andrea from a Mission Gone Wrong"
Final Reward - 1 x 3star Axel
Duration 10 days
Other rewards may include:- Rain Boots, Wrinkled Shirt, Neckerchief, Running Shoes, Work Gloves, Ethanol, Berserk Powder, sunglasses etc
Ad blocker interference detected!
Wikia is a free-to-use site that makes money from advertising. We have a modified experience for viewers using ad blockers

Wikia is not accessible if you've made further modifications. Remove the custom ad blocker rule(s) and the page will load as expected.