Q. How do I add a Page to an existing Category.
A. First Select the ADD CATEGORY Button.
Then start typing in the relevent Category. EG: Characters , select the Yellow text that pops up, then select SAVE. Repeat for any other relevent categories, the page may belong to.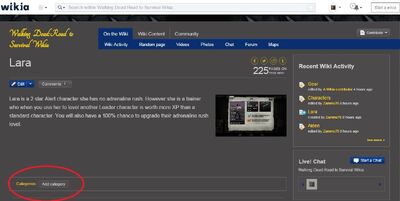 Ad blocker interference detected!
Wikia is a free-to-use site that makes money from advertising. We have a modified experience for viewers using ad blockers

Wikia is not accessible if you've made further modifications. Remove the custom ad blocker rule(s) and the page will load as expected.